Regarding situation of photovoltaic modules, there are the following general possibilities:
Flooring: It is the most usual way of installing modules groups (especially in solar farms) and has great advantages in terms of wind resistance, accessibility and ease assembly.
However, it is more susceptible to being buried by snow, flooding or being broken by animals or people.
Pole: very used in small dimension systems, if it has a mast. It is the typical assembly type of isolated communication equipment or lampposts feeding.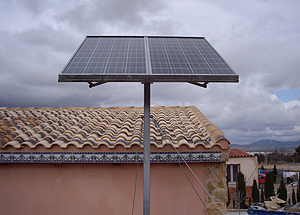 Wall: good anchor points must be available on a built building. Accessibility can present some problems.
Roof: one of the most common because generally enough space is available. It also presents problems of snow cover and risks in roof fasteners waterproofing.
If system is located in an urban area, most common is to place the module on the roof.
In structure assembly, roof sealing must be ensured by waterproofing elements use.
A study must also be carried out to determine if ceiling will support modules and support structure weight.
However, main factor when fixing the structure is wind strength. Structure must withstand winds of at least 150 km / h.
On terraces or floors, the structure should allow a minimum height of the module of about 30 cm. In mountain areas or where there is abundant snowfall, it must be higher.
The structure and supports should preferably be anodized aluminum, stainless steel or galvanized iron and stainless steel fasteners.
Anodized aluminum is lightweight and highly resistant.
Stainless steel is suitable for very corrosive environments and has a longer useful life but its cost is high.
Galvanized iron structures offer good protection against external corrosive agents with the advantage that zinc is chemically compatible with lime and cement mortar, once these are dry.
Structures come in kits or standard profiles that are on the market and a specific system structure can be built.
Supports designed for a specific solar module are usually cheaper than those manufactured in order to be able to hold any type of module. However, it will surely be the latter that will end up developing in greater numbers in near future.
Normally, a solar modules support has the following characteristics: it has a plate provided on its upper face with quick coupling means for modules and one or more holes for the screws to be introduced and thus join the plate to the support. The support also has fastening means attached to plate lower face for fastening to lower structure.
Orientation will always be towards the equator and the following inclinations are recommended:
– Systems with priority function in winter (eg: mountain lodge): 20º higher than place latitude.
– Systems with uniform operation throughout the year (p.e .: home electrification): 15º greater than place latitude.
– Systems with priority operation in spring and summer (p.e .: campings): same as place latitude.
– Systems whose objective is to produce the greatest amount of energy throughout the year (eg: connection to the grid): 85% of place latitude.
The reason for inclination increasing, compared to that recommended for solar thermal collectors, is that generally in the case of photovoltaic systems there is no auxiliary energy system and it is necessary to capture all the energy possible in the most unfavorable period (winter).
Sopelia has developed Solar Layout, the Android App that allows you to obtain the inclination, orientation and distance between rows of photovoltaic modules at the installation site.
This content was extracted from the Solar Photovoltaic Energy Technical-Commercial Manual and is part of Solar e-learning.
All you need is Sun. All you need is Sopelia.