Mexico became the sixth most attractive global economy for renewable energies in the last four years, following an energy reform enacted in December 2013 that attracted investments for US$ 8,600 million.
Prices that resulted from three long-term auctions carried out by the state regulator from 2014 to date, showed a downward trend and have been considered among the most competitive in the world.
With 70% of its sunny territory and an energy reform that opened doors to innovation and private investments, Mexico is on its way to becoming a future world leader in solar energy.
A 2009 report by German Corporation for International Cooperation concluded that Mexico could generate all its electricity with a single solar mega plant in the Sonoran desert. Country would even have energy left over for export.
Mexico is the fourth largest producer of electricity from geothermal energy and has more than 230 plants in operation and construction for renewable energy electricity generation.
Country has raised the stakes with actions such as the second energy auction for 2019 and the recent energy reform to ensure that 35% of its energy comes from renewable sources in 2024.
The estimated investment within the next 15 years is US$ 119 billion, with which this sector will be the second with highest investment after automotive industry.
Oaxaca and Veracruz are the states with more wind and biomass projects respectively, while states such as Sonora, Chihuahua and Durango are the states with the most photovoltaic park installation projects.
In Sonora State, the construction of four new electricity generation plants based on solar energy is planned.
These projects will have a capacity of 498 MW and will invest U$D 423 million in next three years.
They will be added to the three solar plants that are already in operation, together with the solar-photovoltaic projects AT Solar I-V Blumex Power and Orejana.
The Tastiota and El Mayo solar plants will also be built, which will have 100 MW and 99 MW capacity respectively.
The Bacabachi I solar plant will have a capacity of 200 MW and April solar plant, 99 MW.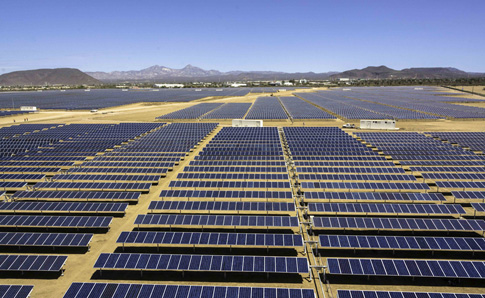 However, in the country, it is necessary to carry out sophisticated engineering processes and route plans for optimal transport, since deficiencies in infrastructure are still observed.
In addition, upon arrival in Mexican territory, it is necessary to ensure that imported products comply with the necessary regulations, so assistance of true experts is required to verify the use of sectoral programs that allow cost savings, as is the case of steel (PROSEC), during components used in the solar parks importation.
All you need is Sun. All you need is Sopelia.