Until the first half of the 90s, the installed capacity in Bolivia was 5.000 photovoltaic systems mainly for telecommunications and rural households' electrification.
During the second half of the decade, more than 5.000 systems were installed in the department of Santa Cruz in a project promoted by CRE distributor, with funding from the Netherlands Kingdom Embassy.
In addition to this, projects financed by NRECA in the so called "Yungas" region of La Paz department and Energética in Cochabamba (Chimboata and Intikanchay projects) were also implemented.
Since the year 2000, more than 2.000 systems are being installed per year from projects such as those implemented by the Social Investment Fund (FIS) and the La Paz department Prefecture.
The number of installed systems to date exceeds 35.000.
According to data provided by Energética NGO, 83,4% of existing photovoltaic solar installations are for home use, 16,3% for social using (health centers, educational units, churches, seniors centers, unions) and 0,3% are for productive use (spinning centers, craft centers, pumping systems).
Most facilities are located in the departments of Cochabamba, Oruro and Potosi.
There are three important aspects that can favor the country's photovoltaic development:
1- The manufacture of components by Bolivian companies. One company has included photovoltaic system batteries in its offer and another produces charge controllers, PL-type fluorescent lamps and voltage converters.
2- The training of human resources in this technology, which has been included within technical training centers' curriculums, which allows to provide the labor needed to support a significant rate of implementations.
3- Installations' quality. Bolivia was the first country in the region to have own regulations that guarantee quality. They were developed by the BOL / 97 / G31 project implemented by the Department of Electricity and Alternative Energies financed by UNDP / GEF and issued by the Bolivian Institute for Standards and Quality (IBNORCA).
Although photovoltaic technology in Bolivia has reached a certain maturity, it still has challenges ahead. Especially in the field of productive uses which should enable rural people to increase their income. Thus, it would fulfill a great purpose: to bring development to rural areas.
The second phase of the first solar power plant was recently inaugurated in the country (the 1st phase was delivered in September 2014) with a capacity of 5.1 MW and located in Villa Bush (Pando).
Cobija Photovoltaic Solar Plant will provide continuous power to the municipalities of Cobija, Porvenir, Filadelfia, Bella Flor and Puerto Rico.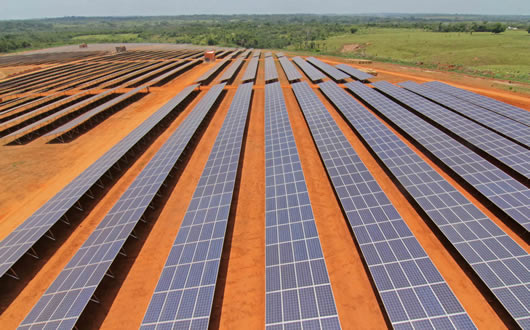 The project's total investment was U$D 11 million. The National Electricity Company (ENDE) invested U$D 4.98 million (47%), while the Danish Cooperation made a non-repayable contribution of U$D 6 million (53%).
Energy from Cobija Photovoltaic Solar Plant is expected to substitute the consumption of 1.9 million liters (0.43 million Gallons) of diesel per year.
The projected Oruro Department solar plant will have a capacity of 20 MW and its construction will involve the investment of U$D 45 million.